St. Croix County Fair News
Open Class Exhibits Wanted
St. Croix County Fair seeks open class exhibitors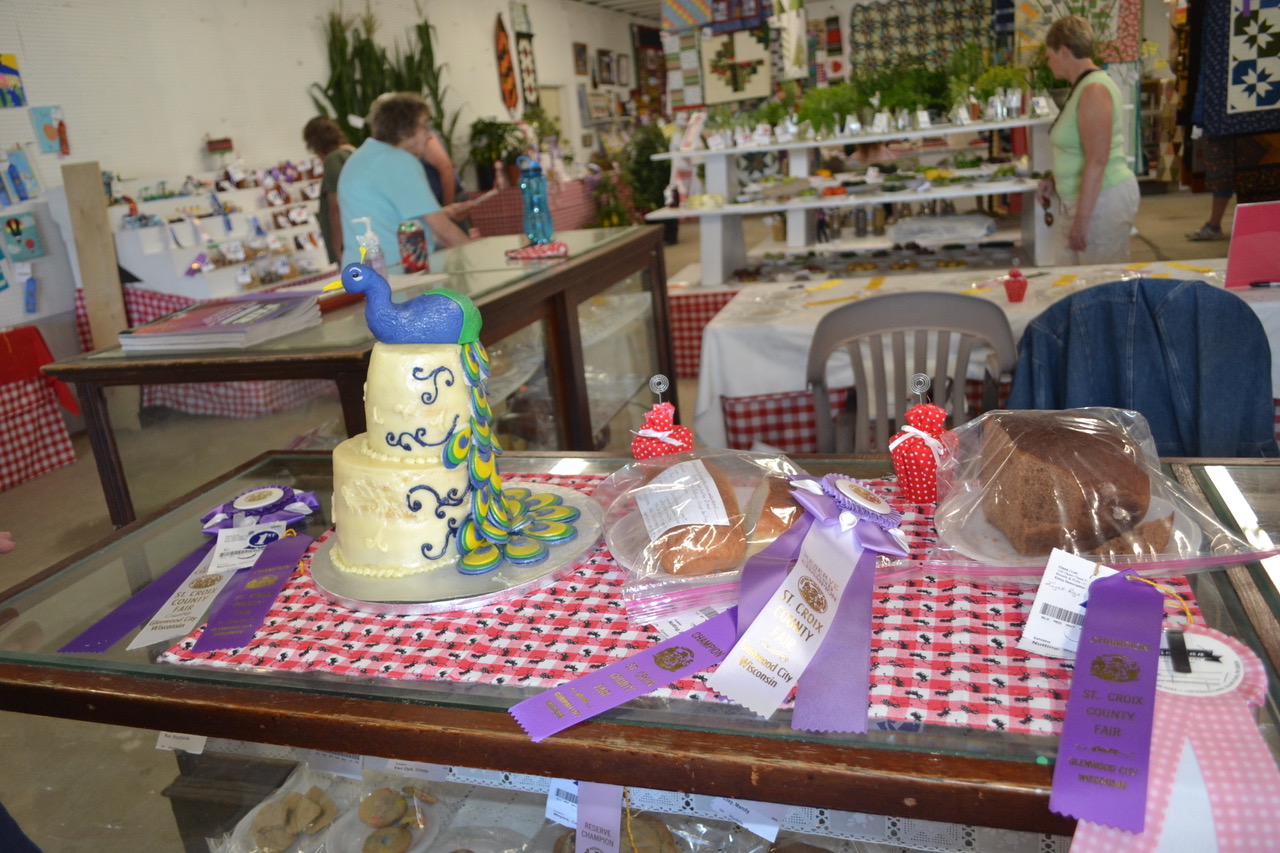 "Our Great County Get Together" the St. Croix County Fair will be held July 19-23 in Glenwood City. This wonderful event always includes fun, food, activities, entertainment, and a wide variety of exhibits for all to enjoy. Now, is the time to enter your crafts, photography, baking, gardening, crops, quilting, sewing, handwork, and even antiques. Each year hundreds of our county residents, young and old, exhibit at the St. Croix County Fair enjoying the friendly competition with their friends and neighbors while sharing their talents and skills and hoping to earn a earn a ribbon or maybe even a trophy.
The St. Croix County Fair Premium Book lists all the amazing exhibit departments and classes that you can enter and can be found by clicking this link for online entry, entries may also be mailed to Cindy Van Dyk, 904 131st Ave, New Richmond, WI 54017. Premium books are also available at all local libraries and various sites around the county including Gregerson's Ace Hardware - Baldwin, Farm and Home New Richmond, Tribune Press Reporter – Glenwood City, St. Croix County Government Center – Hudson, and Hiawatha National Bank – Glenwood City. Exhibit entry closes on May 31 at midnight, no exception, so make sure to enter early.
Entry tags may be picked up at the fairgrounds on Saturday, July 15th, from 10:00 a.m. until 3:00 p.m. and again on Wednesday July 19th from 11:00 a.m. until 7:30 p.m. Open Class and Senior Citizen exhibits should be brought to the fairgrounds on Wednesday, July 19th from 11 a.m. until 7:30 p.m. and must be in place in the correct exhibit building by 8:00 p.m. Department judging times are listed in the Premium Book and on our website. Everyone is welcome and encouraged to watch the judging.
Youth members from approved organizations such as 4-H, FFA, and Scouts are encouraged to enter in the Jr. Fair Departments and follow the same entry guidelines as Open Class.
Please note that while the St. Croix County Fair takes pride in protecting your exhibits, they are exhibited at your own risk. All exhibits must be picked up from the fairgrounds on Sunday, July 23rd from 4:00 p.m. until 7:00 p.m. or Monday, July 24th by 11:00 a.m.
If you have any questions, please contact Cindy Van Dyk, by phone 715-246-5486 or by email cindyvandyk1976@gmail.com
Demo Derby
Demo Derby comes to the Fair!
Breaking News! We are very excited to announce the return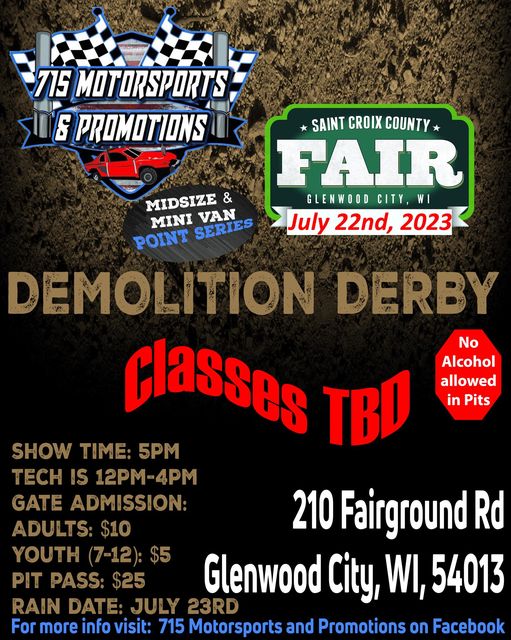 of the Demolition Derby to Glenwood City at the St. Croix County Fair at the Tiffany Creek Special Events Area on Saturday, July 22. The show will begin at 5 p.m. Stay tuned for updates and registration information.