St. Croix County May Fair News
9th Annual May Fair Event & Sale
9th Annual May Fair Event & Sale
The 9th Annual May Fair Event & Sale will be held Mother's Day weekend, Saturday, May 12th at the St Croix County Fairgrounds in Glenwood City, WI. Sponsored by the St. Croix County 4-H Dairy, Horse & Livestock Committees and the Friends of the St. Croix County Fairgrounds, the May Fair Event & Sale offers fun for the entire family along with the opportunity to help support retiring the loan on the new Horse Barn. Doors will open at 4 PM with the program starting promptly at 5 PM. The building will be heated as necessary. The Fairgrounds is home to the St. Croix County Fair and the St. Croix Valley PRCA Rodeo. The Fairgrounds is also used for a wide variety of county and community events from April to October.
The M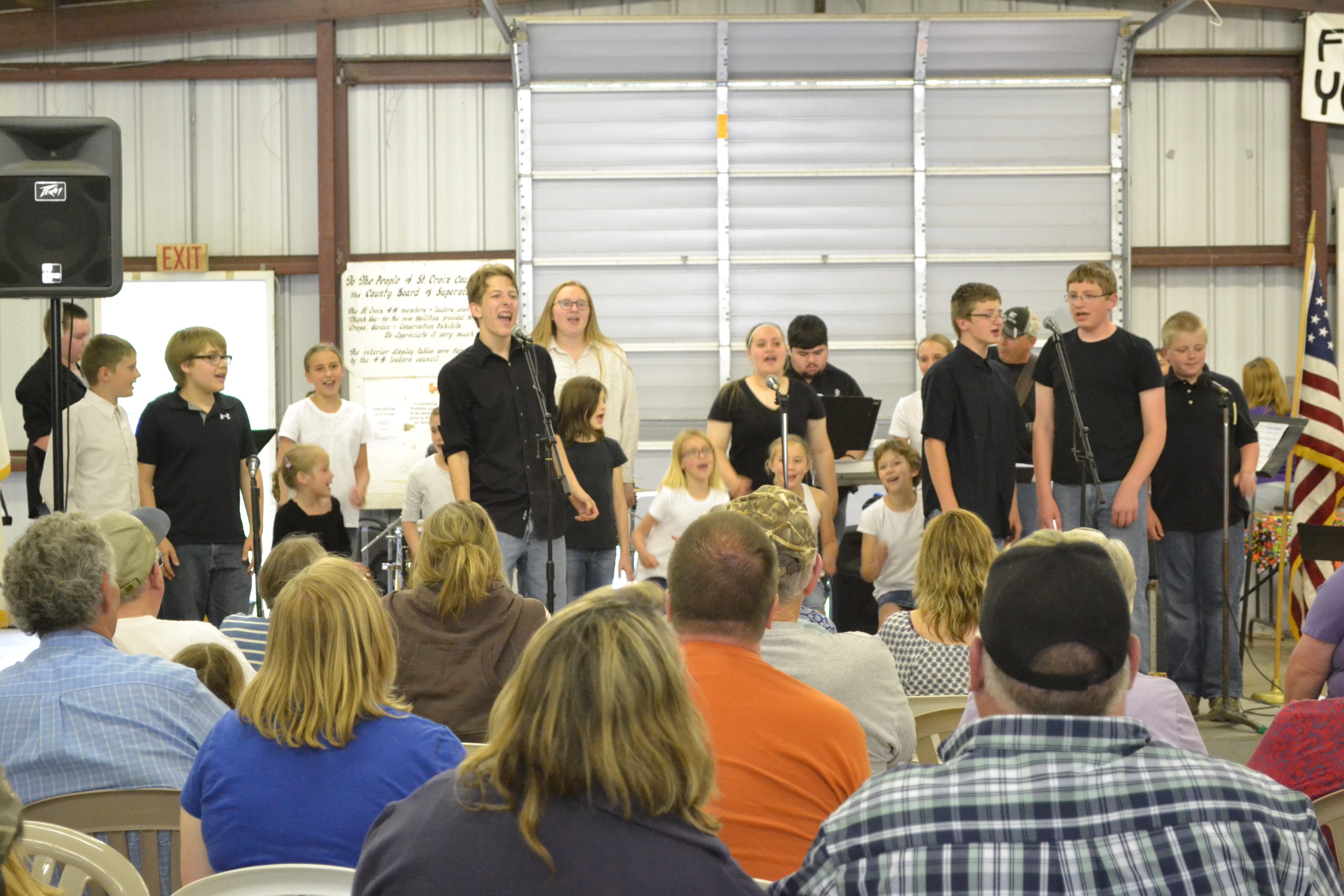 ay Fair Event & Sale is appropriately named after a similar event started in the 1680's in what is now the Mayfair District of London. The original May Fair coupled a cattle sale along with a boisterous community celebration running annually for the first 15 days of May to celebrate the beginning of spring.
The St. Croix County Event, although a bit tamer, will feature live entertainment by 4-H Talent Acts, RJ Amundson, Bruce Libby and the Blue Moon Band. Additionally there will be special events for children along with a free-will offering dinner catered by Ruth Hurtgen. The live and silent auctions will feature a broad range of items ranging from professional sports tickets to beautiful Circle H flower baskets for Mom. Some of the items donated include agricultural supplies, veterinary services and supplies, equine tack, automotive services, restaurant certificates, salon packages, yard decorations, art etc. – truly something for everyone! All of the proceeds will go towards retiring the loan on the Horse Barn – with a stretch objective of celebrating retirement at this year's Fair. Also the winner(s) of the 2018 4-H Dairy Heritage Calf will be announced; several check presentations received plus special recognition of Fair supporters.
Thanks to the continued outstanding support of the entire County including 4-H Clubs and the Fair family, great progress has been made in the Renovations for Generations Campaign– and much remains to be done. Completed projects include construction of the Dairy Complex, Horse Barn, Livestock Scale House, and the Tiffany Creek Pavilion plus the addition of an electronic billboard. In discussion is construction of the Livestock Barn, a multispecies building & show ring.
The St. Croix County Fairgrounds is on the move with its capital campaign, "Renovations for the Generations". Bring your family to this fun event and help us ensure continuation of this important piece of our cultural and agricultural heritage!!!
View an electronic auction bill at http://www.stcroixcofair.com/may-fair starting May 4th with an update on May 10th. Please feel free to contact: Terry Mitchell (715) 246-5502, Rosemary Donahoe (715) 684-9060, Allison Mentink (715) 308-3602, Shelby Krupa (715) 781-0477 or Chris Libbey at (651) 247-0395 for more information or if you wish to make a donation.
2017-18 Fair Books Now Available
2017-18 Fair Books Now Available
Whether you bake, sew, build, grow or train, entering an exhibit at a county fair is an exciting process and open to all. The St. Croix County Fair offers 17 different open class departments for entries including classes ranging from Antiques and Cats to Rabbits and Woodworking. This year's St. Croix County Fair will be held July 19-23, in Glenwood City. Entry day for all non-animal exhibits is Wednesday, July 19 with judging beginning at noon and lasting until 7:30 p.m. To enter your favorite exhibit in the St. Croix County Fair's Open Class competition, visit our website at http://www.stcroixcofair.com and click on the Quick Links "Open Class Fair Book" the entry form will be the first link at the top of the page, or a paper entry can be found on page 113 of the St. Croix County Fair Book. All entries are due by May 31.
As in previous years, Dunn, Polk and Pierce residents are eligible to exhibit in the Open Class Division at the 2017 St. Croix County Fair. If any resident from our neighboring counties have questions, please feel free to contact the St. Croix County Fair at stcroixcofair@gmail.com or visit our Facebook page https://www.facebook.com/stcroixfair and private message us.
Thank you to the county businesses that are assisting the St. Croix County Fair as a fair book pickup location. Fair books will be available at these locations by Monday, March 13:
New Richmond: Farm & Home, Government Center and the New Richmond News office
Hudson: Government Center
Baldwin: Extension Office / Ag. Center
Glenwood City: Nilssen's SuperValu, and Tribune Press Reporter office
All local libraries will have a limited number of books available to pick-up and will keep a few books as reference materials.
For additional Fair related information, visit the St. Croix County Fair web site at http://www.stcroixcofair.com, https://www.facebook.com/stcroixfair or email us at stcroixcofair@gmail.com. Come to the Fair with your exhibit and put yourself in the center of the fun. Our theme for the 2017 St. Croix County Fair is "Hay Bales & Pig Tails" and it's bound to be a tail curling good time. We hope to see you there.