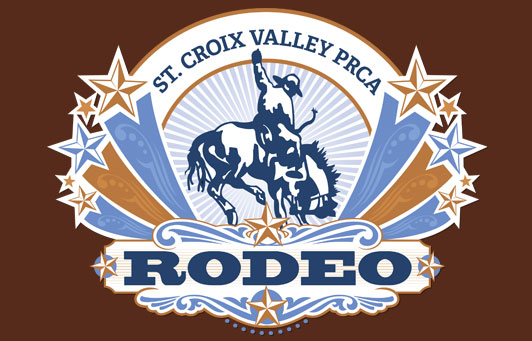 | | | |
| --- | --- | --- |
| August 31, 2022 | September 16, 2021 | August 17, 2021 |
St. Croix Valley PRCA Rodeo a Family Tradition Since 2008
At the St. Croix Valley PRCA Rodeo, you'll see pro rodeo's toughest competitors go up against the rough and rugged rodeo stock from the award-winning Barnes Rodeo Company. They'll be vying in seven great events, tiedown roping, saddle bronc riding, steer wrestling, bareback bronc riding, bull riding, barrel racing and team roping.
We will once again begin our rodeo performance with a salute to our military. We are extending our military discount to both performances. Any military member (active or veteran) is eligible for a discount with a military ID.
Besides Professional RAM Rodeo, join us for great family activities both Friday, August 18 and Saturday, August 19. Starting at 4:30 p.m., the gates will open for Muttin Bustin' Buck-offs, Fantasy Corral Petting Zoo featuring over 35 different species of animals that can be fed and petted, pony rides, stick rodeo, nickel scrambles and many other great attractions. At 7:30 p.m. the Barnes Rodeo Company will take over in center stage and the audience will be treated to a fantastic display of professional rodeo, including Muttin Bustin' for the for top 10 junior wrangler contestants. Interested in Muttin Bustin' click ribbon on the right for full rules.
Barnes PRCA Rodeo Company - Defining Professional Rodeo for more than half century.
The Barnes PRCA Rodeo Company has worked with Spooner Rodeo since 1954, and we are excited to have them as the stock contractor for the St. Croix Valley PRCA Rodeo. Many of the bulls and broncs that are coming to St. Croix County have competed at the National Finals Rodeo in Las Vegas. For more info on the Barnes Company and what they mean to Pro Rodeo, see their website at BarnesPRCArodeo.com. Great rodeo action and excitement are guaranteed whenever and wherever the Barnes family is involved!
Plan to join us for the St. Croix Valley PRCA Rodeo, August 18 & 19 held at the Fairgrounds in Glenwood City, Wisconsin. Each performance is a complete show, with bull riding, barrel racing, tie-down roping, saddle bronc riding, steer wrestling, bareback bronc riding and team roping. You can expect the best in professional rodeo action and entertainment when you come here, and it's what you'll always get.
Who are we and where does your money go?
The St. Croix Valley PRCA Rodeo is a volunteer organization and a sub-committee of the St. Croix County Fair. We operate independently, with support and financial oversight from the Fair Board. The rodeo is a nonprofit group and all profits are re-invested into the fairgrounds for capital improvements. Funds benefit: the rodeo (of course), The St. Croix County Fair, and any other event that take place at the fairgrounds such as livestock shows, horse shows, and community events. In recent years, the Rodeo has helped fund things such as a new tractor, bucking chutes, improvements to the horse arena, and a new pavilion.
Thank You PRCA Rodeo Sponsors!
We would like to thank our Gold & Silver Sponsors as well as all of our 2022 St. Croix Valley PRCA Rodeo Sponsors!
If you are interested in seeing your name veiwed by thousands of rodeo fans, please contact Dean LeMay at dandslemay@yahoo.com or Cindy Croes Olson at ccroes88@gmail.com about becoming a sponsor of the St. Croix Valley PRCA Rodeo. All other inquiries may be directed to stcroixvalleyrodeo@gmail.com. We'll see you at the Rodeo!