Breaking News:
Demo Derby comes to the Fair!
Breaking News! We are very excited to announce the return of the Demolition Derby to Glenwood City at the St. Croix County Fair at the Tiffany Creek Special Events Area on Saturday, July 22. The show will begin at 5 p.m. Stay tuned for updates and registration information.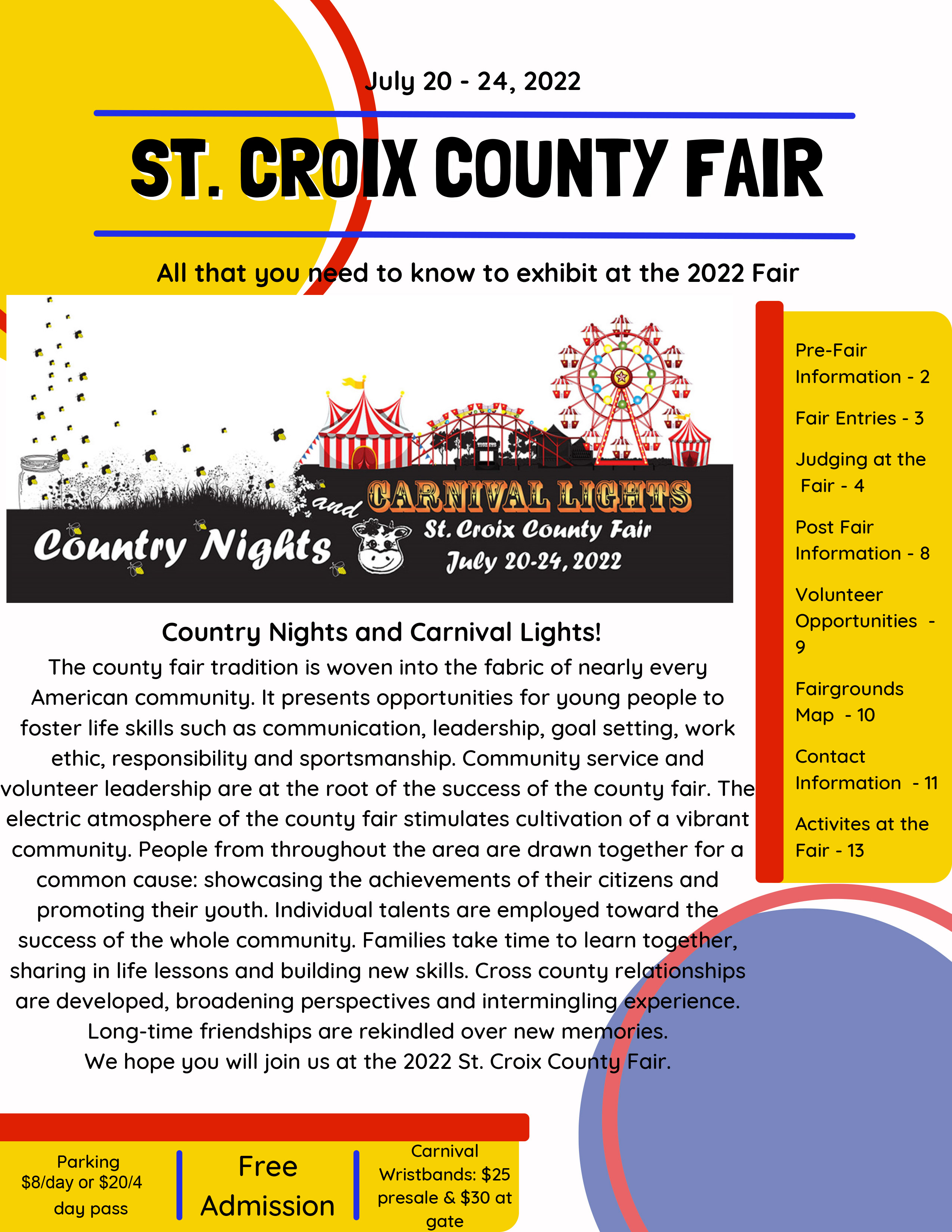 The county fair tradition is woven into the fabric of nearly every American community. It presents opportunities for young people to
foster life skills such as communication, leadership, goal setting, work ethic, responsibility and sportsmanship. Community service and volunteer leadership are at the root of the success of the county fair. The electric atmosphere of the county fair stimulates cultivation of a vibrant community. People from throughout the area are drawn together for a common cause: showcasing the achievements of their citizens and promoting their youth. Individual talents are employed toward the success of the whole community. Families take time to learn together, sharing in life lessons and building new skills. Cross county relationships are developed, broadening perspectives and intermingling experience.
Long-time friendships are rekindled over new memories. We hope you will join us at the 2022 St. Croix County Fair.
Click on the link to see what the
St. Croix County Fair has for you.
Premium Books Available - Fair Entry Open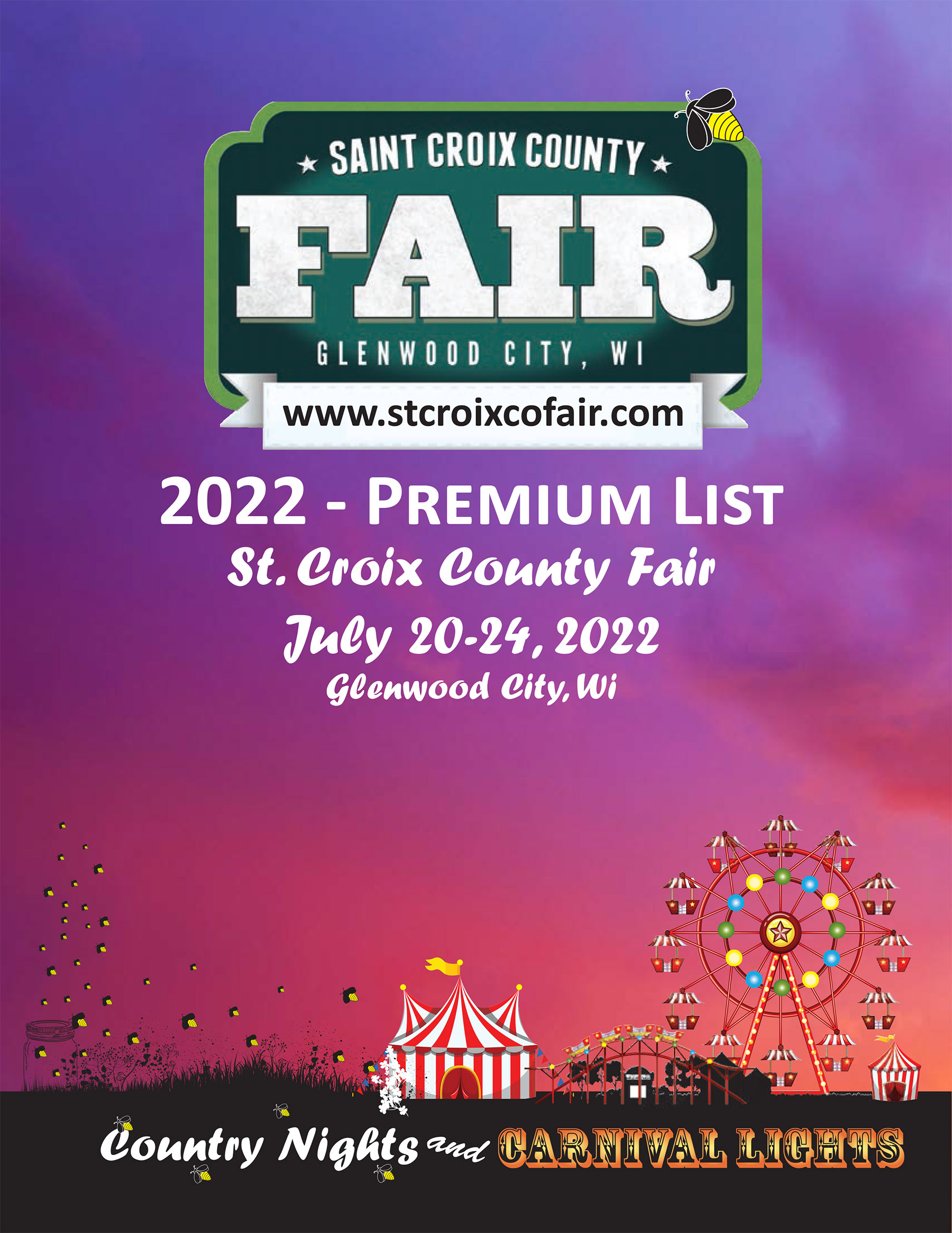 A new year, a new fair book! Whether you bake, sew, build, or grow entering an exhibit at a county fair is an exciting process that is open to all. The St. Croix County Fair offers 17 open class departments ranging from Antiques to Rabbits and Woodworking as well as 30 Youth departments that include Livestock, Flowers, and Photography. Held in Glenwood City, this year's St. Croix County Fair will be July 20-24. To enter your exhibit in the St. Croix County Fair, visit our website at http://www.stcroixcofair.com and click on the Quick Links "Open Class Fair Book" or "Jr. Fair Book". Online St. Croix County Fair entry opens today, April 1, 2022 and closes at midnight May 31, 2022, no exceptions. The new 2022 St. Croix County fair book includes several changes so be sure to read the rules and descriptions carefully.
Fair books will be available at the following county businesses that are assisting the St. Croix County Fair as pickup locations:
New Richmond: Farm & Home, and the Government Center;
Hudson: St. Croix County Government Center;
Baldwin: Extension Office / Ag. Center and Gregerson's Ace Hardware;
Glenwood City: Tribune Press Reporter and Hiawatha National Bank
ALL St. Croix County libraries should have books available to pick-up and will keep a few books as reference materials.
The St. Croix County Fair asks that 4-H families wait to receive their St. Croix County Premium Books from their club leaders as there were a limited number of books printed this year.
As in previous years, Dunn, Polk, and Pierce residents are eligible to exhibit in the Open Class Division at the 2022 St. Croix County Fair. For questions, please contact the St. Croix County Fair at stcroixcofair@gmail.com or visit our Facebook page http://www.facebook.com/stcroixfair to private message us.
For additional Fair related information, visit the St. Croix County Fair web site at http://www.stcroixcofair.com www.f,acebook.com/stcroixfair or email us at stcroixcofair@gmail.com. Come to the Fair with your exhibit and put yourself in the center of the fun. Let's celebrate Country Nights & Carnival Lights July 20-24! We hope to see you there!
Welcome to the St. Croix County Wisconsin Fairgrounds
The St. Croix County Fairgrounds is located in beautiful Glenwood City, WI. For over 125 years, St. Croix County has held annual events, some of our feature events include the County Fair, the PRCA Rodeo, May Fair and a tractor pull. Simply find your event above to learn more.
Interested in hosting your own event at the Fairgounds?
The St. Croix County Fairgrounds is 41-acres that include many buildings, barns, and other facilities for a wide range of event possibilities. To learn about our rental fees, camping fees, and equipment admissions you can visit our Fairgrounds rental page.